If you've been paying attention to the media at all the last 9 months or so, you've noticed Hulu's creative new campaign to increase their user base and broaden the streaming service. Hulu now has live sports and the talent to prove it. Hulu has been streaming live sports for a little over two years now, however much of the world was unaware of this product development. Over the last 9 months, Hulu has rolled out a simple yet creative way to disrupt the streaming market. The campaign has centered around top flight athletes and one simple phrase, "Hulu Has Live Sports." In just 9 short months since the campaign launch, Hulu has worked with dozens of star athletes and as of May they had increased their subscriber base by 12% since the new year. The campaign is quickly proving to be effective.
Latest Efforts
As the NFL season has reached full swing, Hulu has shifted its focus to advertising with football players. The most recent athlete to jump on board with Hulu is Saquon Barkley. Barkley, known for his supreme athletic prowess and massive quads, has quickly become one of the NFL's biggest stars in just a year and a half of being in the league.
Hulu has launched their new partnership with Saquon in a number of ways. They've rolled out multiple TV commercials as well as created a mobile video game starring Saquon. The video game, Hulu Has Live Sports '20, is one the coolest and most creative partnership activations in the marketplace. The game stars Saquon sitting on a couch watching tv, live sports presumably. The TV and couch then grow legs and the user must chase the tv throughout an obstacle course-like setting, all centered around watching live sports via Hulu.
Activation
Saquon Barkley has an incredibly high visibility in the marketplace. At only age 22, he's already become recognized as just Saquon, similar to other sport super stars like Lebron and Ronaldo who have come to be known by one name. In addition, Saquon has 2 million plus followers on his Instagram. Through this platform, he's already posted about his endorsement deal with Hulu twice. He's posted content seen on commercials as well as linked "Hulu Has Live Sports '20", the game he's the cover athlete for.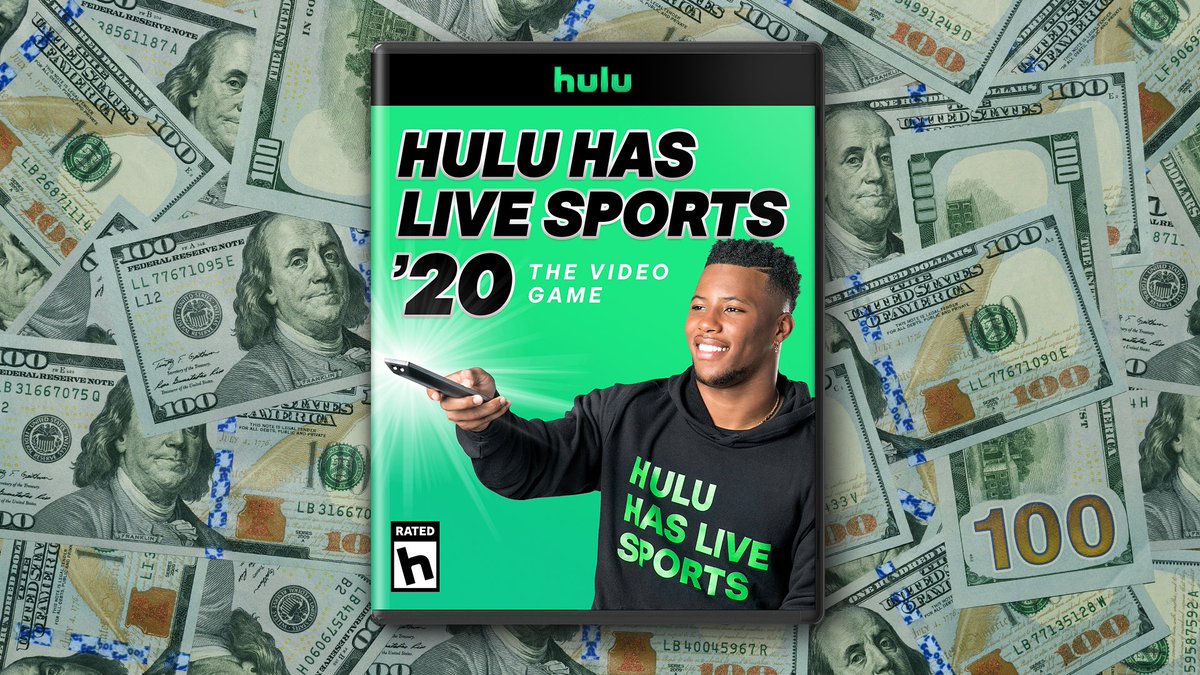 Market
Hulu, in general, has been more focussed on streaming shows and movies as part of their business model. Bringing live sports into the fold has created a new target market for the streaming brand. As more and more people opt to cut the cable cord the more will turn to streaming as their medium to receive content. With the popularity of streaming increasing, more people are also looking to watch sports content via stream. In launching the Hulu Has Live Sports campaign, Hulu is clearly trying to reach the audience of sport fans who are looking to stream sport content.
Future
Hulu's push towards marketing live sports should continue as the popularity of OTT (Over The Top) content and streaming services gain more traction in the marketplace. In the coming years, the NFL broadcast rights are going up for bid. Streaming service like Amazon and Facebook are both expected to be in the running for the broadcast rights. Could Hulu be in the running too? It may be a long shot but Hulu continues to prove they're a force to be reckoned with in the marketplace.