Ruffles continues to make waves in the crowded snack industry withits one of a kind "Chip Deal" signed with Anthony Davis. The Frito Lay brand announced on June 18th that they had entered into an exclusive creative partnership with NBA star Anthony Davis, commonly referred to as "AD." Ruffles and AD made the announcement at the NBA store in New York City, coinciding with a Ruffles signature shoe launch. The shoe, The Ruffles Ridge Tops, features unique design input from AD and will be available to few lucky fans. From June 24th until August 4th fans who buy a bag of Ruffles and enter the code on the bag will be entered to win a pair of the special edition sneakers.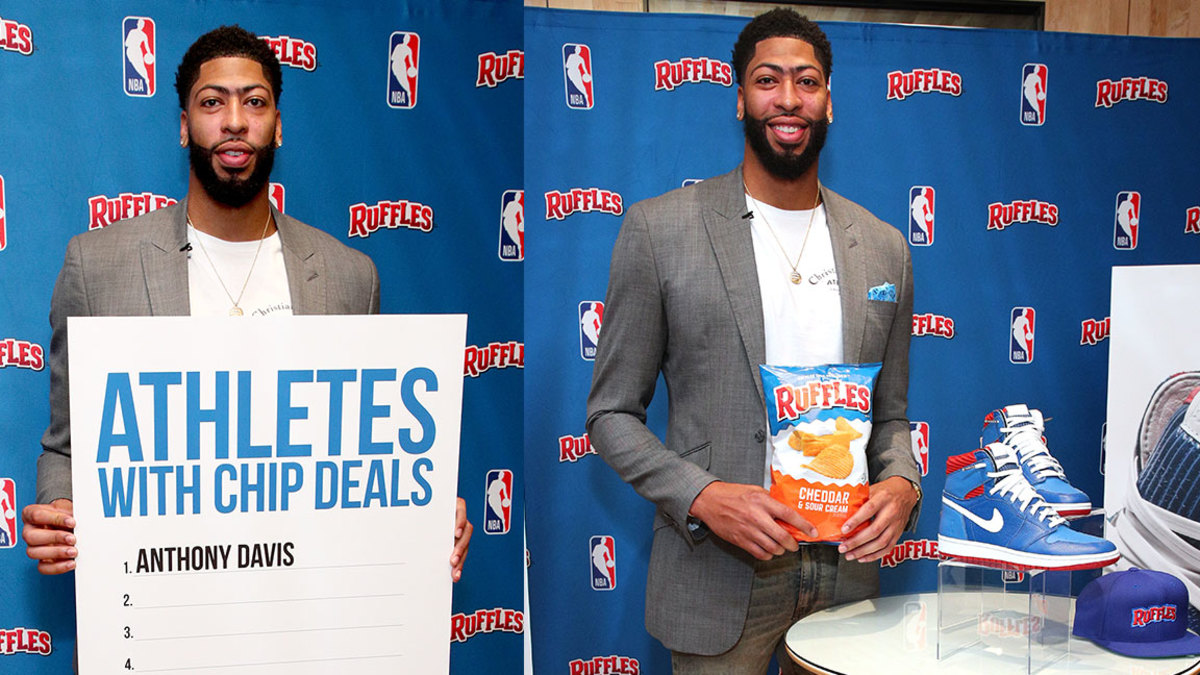 Ruffles and AD made their announcement on their social media accounts, which reached over 4 million total followers total.
Why Digital?
The move to digital marketing isn't new to Ruffles. In 2013, Ruffles re-allocated their ad funds. The changes were headlined by a nearly 100% focus on digital advertising instead of traditional television and print ads. Previously, Ruffles had only spent about 29% of their ad budget on digital marketing efforts. The change was made in order to "experiment with making one of its brands entirely digital," said then Frito Lay senior director of marketing, Dana Lawrence. Ruffles was selected as the brand that would make the change due to their unique target market of millennial males. "We're really trying to reach our target, 25-year-old millennial males, in a more relevant way," said Lawrence. The change has paid off as Ruffles and Frito Lay successfully predicted the trend of ad spending moving towards digital marketing. In 2013, when the reallocation was made, online and digital marketing efforts represented just 4.5% of the marketing dollars spent. In 2019, digital marketing is expected to account for over 54% of the total marketing dollars spent. This is an increase of  over 1100% in just a 6-year time-period. By 2023, digital marketing is expected to represent over two-thirds of marketing dollars spent.
Power of the Celebrity
Ruffles' trail-blazing change to spend most of its marketing budget on digital efforts has been met by an increase in celebrity endorsers for the brand. Although celebrity endorsements are not a new trend, it has become increasingly important in the digital marketing age. Famous athletes and celebrities have millions and millions of followers. By establishing a creative partnership, brands are able to successfully reach these followers and cut through the clutter. Furthermore, a fan of Anthony Davis will be exposed to Ruffles' branding because Ruffles content will be posted on AD's feed. This exposure is very valuable as Ruffles' social media following is much smaller and the brand would be unable to reach the scope of people they wish to touch through advertising.
In addition to brand awareness, celebrity endorsements add a sense of quality to a product. By partnering with a celebrity, the brand is essentially receiving a seal of approval from that celeb. This helps create a sense of quality that is invaluable to a brand. Anthony Davis has provided this for Ruffles.
Ruffles continues to push their marketing strategies in the digital direction. They should be rewarded, in terms of revenue generation, for their efforts. Keep an eye on Ruffles as a company who is able to identify and implement new trends.